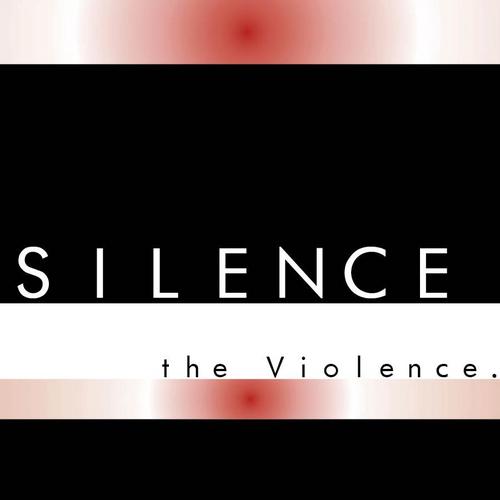 Photo Description: A poster reading: SILENCE the Violence
Today's blog will contain swearing. I try not to have too many cuss words in my writing, although I think my definition of a cuss word may be different than a lot of other peoples, but, without question, I'm going to use a word that everyone agrees is a cuss word. I'm going to drop the f-bomb. So, be ye warned.
It's awful to say but I am accustomed to street harassment. While my wheelchair is a magnet for social inappropriateness, my weight is a magnet for social violence. I know the use of the word 'violence' in this context may be shocking to some, but I don't think that the word 'bullying' conveys the sense of what it's like on the receiving end. It feels like an act of violence so, in my mind, it is an act of violence. That it is violence most often done with words doesn't diminish the impact. So, I am accustomed then to the consequences that come from being different, from living out loud.
Sometimes, though not often, I simply forget. Like yesterday, I was sitting in the car with Joe driving and I was excited. I'm starting a new project that I've wanted to do for over 15 years. The universe aligned, and because of a talented teenaged girl, it's going to happen. So I was chatting wildly about what had just happened, the meeting, the people, the project, the everything. I forgot, which I don't usually, that I am in a car with windows. As I was talking I noticed movement in the passenger seat in the car next to me. I glanced over and saw a man, who looked to be in his seventies, he'd written a message in pen on a piece of paper. It said, "You are disgusting!" As I looked he was pointing at me and my body. Well, gosh, thanks.
But I want to tell you about the day before, we were going down to meet with Luke, a fellow from the office, who we were going to map out our agency 'Accessiwalk.' We were both excited about what we were doing and talking about it. I forgot, in the excitement of doing something that I'm really happy about, that I was out that I could be seen and that the world isn't ever, not ever, really safe for me. I rolled by a young man, all cool, with a bunch of his friends just outside the Ryerson University building. I don't know if he was a student there, but there are lots of young folks around that area. I say this because he could be heard and spoke as if he desired to be heard. He made a crude comment about my weight, forgive me, after writing what was on the piece of paper in the paragraph before, I can't write down another hateful epithet.
It stung of course. It also drew the attention of all the other young people in the area. All of whom presumably had been in bullying classes, all of whom, I'd guess, had learned not just to be a silent bystander. Well, if they had taken those classes, what they learned didn't stick. Their response was silence and staring. Staring not at the person who openly and without fear of reaction, threw abusive words at a stranger, but staring and me for being a stranger with a difference. But that day it hit me hard, I spun around in my chair and said, "Fuck you! OK? Fuck you, you asswipe!!" He was shocked. Not embarrassed, but shocked. He tensed as if he was going into fight mode and I saw no more because I had turned my chair and was on my way.
And you know what?
It's a big secret.
It felt good.
Really good.
I don't want to become like that and I don't want to do that often. But it felt like I was saying it to all the people who'd done similar things before. Like his was just one too many to bear. So, I don't apologize. I don't think I should have too. So the clock is ticking, the sign in the car window the next day is tucked away and, I'm guessing, I'll tell him off in a few months through a good and well placed 'Fuck You!' to someone who hits me when the bruises are still to tender to bare one more punch.